The Zones Curriculum in Action: Personalizing the Zones of Regulation Tools
---
Learning About Emotions with Traffic Signal Cards
Thank you to Meghan Enabnit, OTR/L for sharing her materials and how she is using The Zones with her students.
In this activity, The Zones of Regulation are taught in a playful car theme with traffic signal visuals for the student to grasp the concept and understand our internal body cues in a fun way. By comparing our bodies to traffic signals, it brings to life how we are feeling and can make it easier to describe our emotions and corresponding zone level.  
·         The blue zone visual is in the shape of a blue box to represent the traffic signal of a rest area. We teach the students, just like a car has to slow down after driving a long time on the road, our bodies can get tired, sad, or sick after working for a long time without taking a break. When we feel this way, it is or bodies way of telling us we need a break and to choose an alerting tool to help us re-energize and re-focus when able.
·         The green zone visual is in the shape of a traffic light that is on the green light. Again, like a car driver pushes the pedal and goes, similarly our bodies are ready to work and have nice listening ears when we are in the green zone.   
·         The yellow zone visual is in the shape of a construction caution sign. Like a car driver slows down, our bodies need to take a break and choose a calming tool when in the yellow zone as we are beginning to lose control yet have not fully lost control of ourselves at this point.
·         The red zone is represented by an octagon stop sign. Like a car driver stops at a stop sign, our bodies must stop and get to a safe place to avoid harming ourselves or others when we have lost control over our bodies. 
Learning about Emotions with Animal Zone Cards
These Zones of Regulation Animal cards are a creative and unique tool for students to use to help them and their support system to check in and identify their emotion with a fun and relatable animal to match each zone. First, the student is shown and taught all the various emotions within each zone and then he or she can pick his or her top 2-4 emotions that they most commonly feel throughout their day. They are then asked to select their favorite animal that matches one of those emotions for each zone.
This tool is a good child-motivated choice because:
·         they are fun—the child is given the freedom to pick animal pictures they are drawn to that keeps it creative and fun! Refer to this sample to the side of yellow zone animal card picture to notice the silly pictures that can be selected such as a cat wearing a spider Halloween costume to illustrate the feeling scared when we see a spider yet also can feel silly just like how we feel when we see a cat in a spider costume. The little boy who created this giggled every time looking at this cat in a costume picture and allowed him to playfully relate through the animal's emotion which led to feeling more comfortable to talk about when he feels that way.  
·         they give the child a sense of ownership and self-responsibility—the child feels a sense of pride and increased self esteem after completing a craft and relating with the animal themes they choose on a deeper level.
·         they offer less verbal language—for the students who are triggered by being asked questions through verbal language, this visual can be used to emphasize pointing to how we are feeling in a safe and supported way.  
Helping students "Check-In".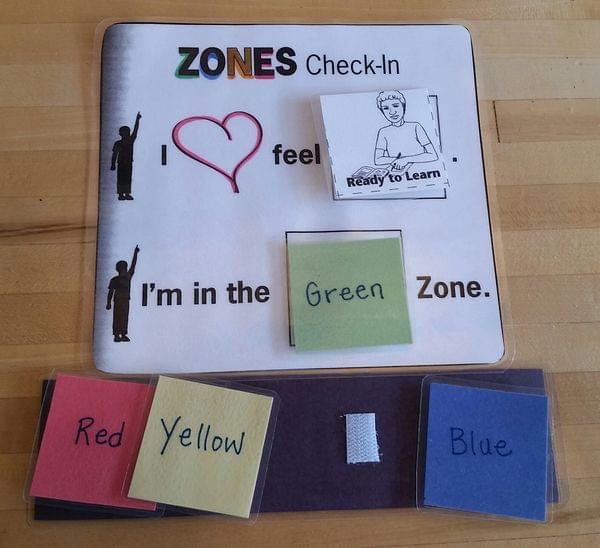 This emotion check in visual is a tool that I use with many of my students for them, their parents, and me to understand how they are feeling upon arrival. After identifying how they are feeling then helps guide our planning to know what kind of sensory input and type of play that is needed for the day. It can also be used as check ins throughout the session and at the end as well as in all-natural environments such as at home and in the community and at school to promote awareness and self-advocacy skills. Often students enjoy when parents and the therapist or teacher check in too and it is a good way to build connection and understanding other's perspectives. This tool is especially great because it:
·         empowers the student to share how they are feeling with the words and images provided when they don't quite know how they feel or can't come up with the words to describe it.
·         educates the student through parent, teacher, or therapist modeling as they are learning their zones.  
Teaching how to use "Tools" for for Regulation
After a student is able to identify how he or she feels accurately independently or with support, the next step is selecting calming and alerting tools to decrease and/or increase their arousal level to achieve regulation. This "Tools for Each of My Zones" resource is a nice way to organize the calming tools each student identifies. They can also draw pictures with fun magic markers, twistable crayons, gel pens for more freedom and fun as well as look through magazines and cut out calming tools to add to their tools board in addition the premade Zones visual tools.  
Here is an example of a student's selected tools for him to use to help him to increase his energy to regulate when in the blue zone, to maintain regulation when in the green zone, to calm down when in the yellow zone, and to stop and be safe when in the red zone. Here are his sample activities that this student chose to use when he feels tired, happy, frustrated, and angry.
·         Blue zone (when we feel tired or sad): ask for a shoulder rub, ask for a hug, take a break, etc.
·         Green zone (when we feel calm or happy): listen to music, bounce, pull, etc.
·         Yellow zone (when we feel frustrated or silly): squeeze a fidget ball, use an inner coach such as "you can do it!" or another mantra, label the size of the problem and make sure your reaction matches the size, etc.
·         Red zone (when we feel angry or mad): lazy 8 breathing, belly breath, animal walk, etc.
We all have tools that we use when we are dysregulated, and it can be a good practice to identify them, so we can better connect and support our children. For instance, when I am in the blue zone, I like to drink ice water or coffee to help me wake up. When I am in the green zone, I like to go for a hike in the mountains or at a beach or go horseback riding. 😊 When I am in the yellow zone, I ask for a back rub, draw a bath with Epson salt, or take some deep breaths. When I am in the red zone, I lay down in my bed and close my door for a few minutes until I feel better. What are your calming and alerting tools that help you stay regulated?