Supporting the Inclusive Classroom: Facilitating Positive Interactions Between Students with and without Learning Challenges
---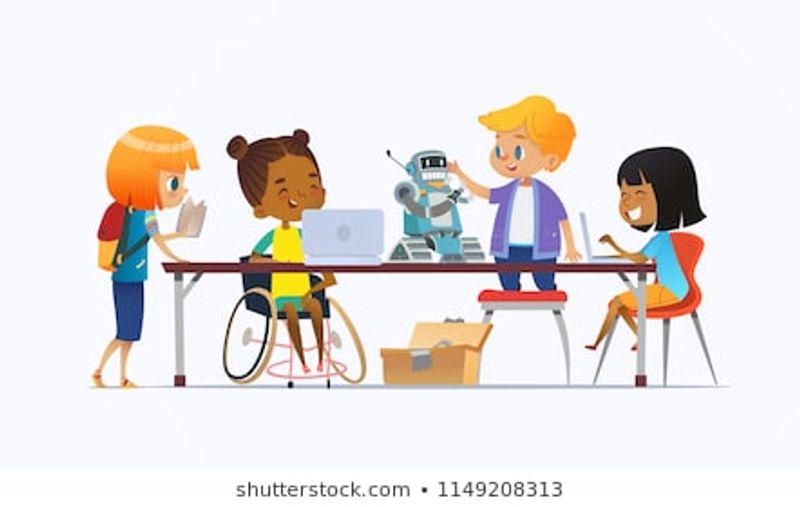 By Michelle Beckwith, OTR/L
As we anticipate the start of a new school year, school supplies, clothes, backpacks, meeting new classmates and teachers, and settling into a new routine are generally what come to mind. We would like to suggest that you add another item to the "Back to School" list: talking with your children about the wide variety of abilities they will encounter amongst their classmates and providing them with education and strategies to help with building successful relationships with all students.
As inclusive classrooms break down the barriers between students who have unique learning styles, social interaction styles, and physical abilities, our students who access primarily general education have the opportunity to interact all day, every day, with students who require special education. We would like to provide some strategies to the general education population for building relationships with and facilitating independence of their classmates with increased physical, social, or learning needs.
The following are some helpful tips for the general education student to have successful interactions with all of their peers:
· Teach them to focus on what all students CAN do: If peers offer help to quickly then a student will have fewer opportunities to learn how to do tasks independently. See what the student can do first, and offer help as needed.
· Remind them to always use age appropriate language/tone of voice regardless of how they perceive a student's level of development: A peer with a disability may seem "younger" due to their language or behaviors. Speaking to these peers as they would speak to any other classmate is respectful and may help improve the social skills and interactions of all students.
· Encourage inclusivity during recess, PE, and free time. All students enjoy spending time with their peers and learning from them. By asking a student who is different from them to join them at lunch, PE, or recess, they are acknowledging all students as equals and encouraging their friends to interact with ALL of their peers, including those with disabilities. They may also be helping a challenged student to try out new activities they haven't done before.
· Let them know that if they are unsure of how to help or act, it is OK ask. There are many teachers and staff who can help them learn how to offer the "just right" level of physical help or the most productive way to socially interact with any student.
Adapted from:
https://www.specialeducationguide.com/pre-k-12/inclusion/the-general-ed-teachers-guide-to-the-inclusive-classroom/